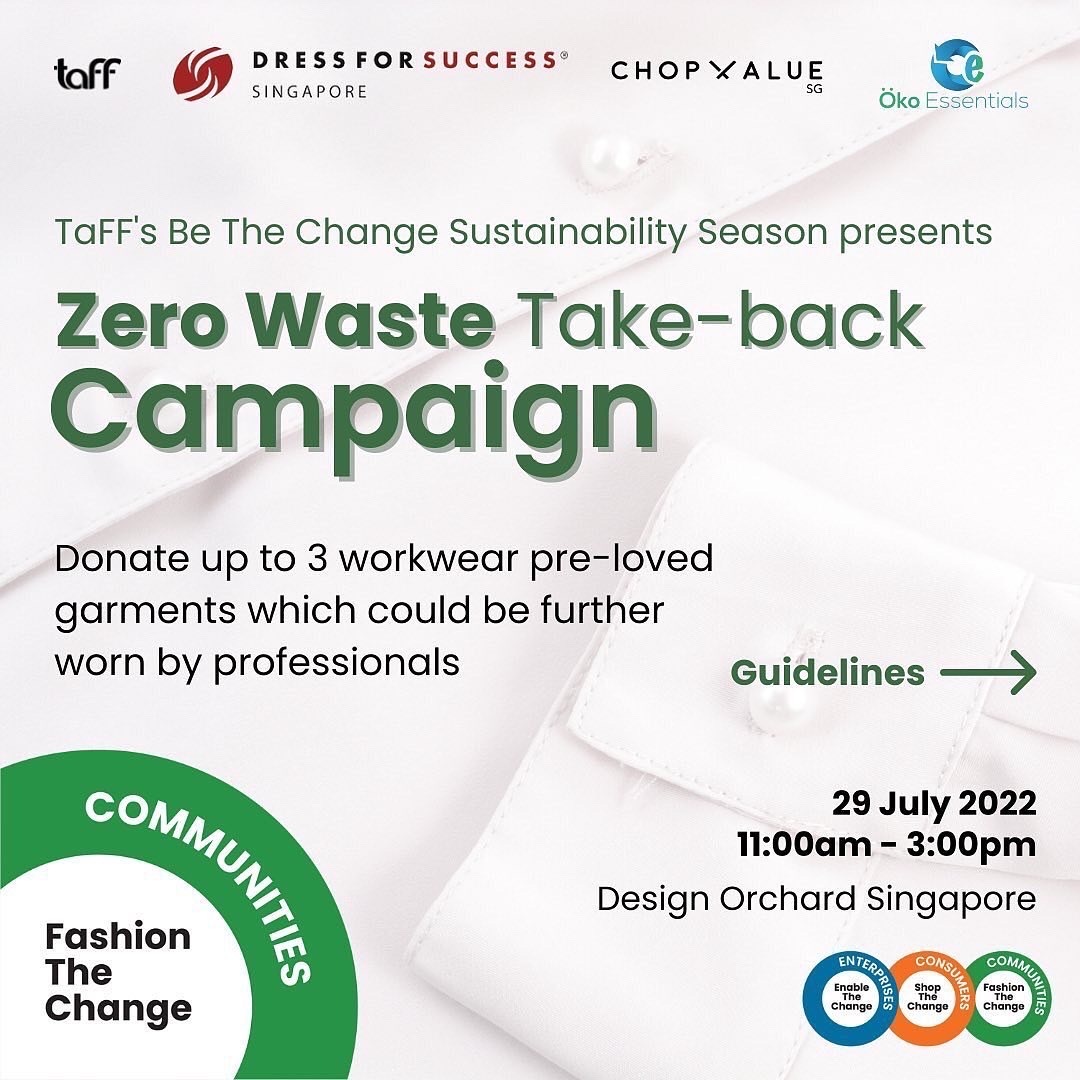 On July 29th, ÖKO Essentials will be partnering with the Textile and Fashion Federation (TaFF) for a special event called the Be the Change campaign. This campaign is focused on how you can positively impact the environment by donating your old clothes and using sustainable products, such as our laundry detergent sheets.
Donate up to 3 pre-loved garments which could be further worn by less privileged working professionals and receive a travel pack of Öko Essentials' (@okoessentials) eco-friendly detergent strips!
Friday, 29 July 2022
11:00am to 3:00pm
Design Orchard Singapore
Keep reading to learn more about the campaign and how you can positively impact the environment!
What Is the Take-Back Campaign?
The Textile and Fashion Federation (TaFF) is an organization that works with the Singapore government to encourage sustainable fashion. Together with other sustainable businesses, TaFF works to improve the environmental impact of manufacturers and consumers in Singapore.
From July 6th to August 18th, 2022, TaFF is presenting the Be the Change campaign. Be the Change is an educational opportunity for consumers to learn about sustainable businesses and products as well as have a location to donate their used clothing. The campaign will host multiple events, including an in-person event at the Design Orchard on July 29th.
Why Is This Important?
The take-back campaign is an important opportunity to educate consumers about sustainability. Fast fashion is a growing issue and leads to significant waste. Every year in Singapore, clothing waste accounts for over 137,000 tonnes of waste.
This waste, combined with other consumer waste, such as water waste produced by using non-environmentally cleaning products, has a huge negative impact on the environment. If consumers switch to sustainable practices, water waste, carbon emissions, and waste in landfills will be reduced. It's important to invest in sustainable fashion and sustainable products that are made to help the environment, not harm it.
Other Ways You Can Help the Environment
Other than donating your clothes and attending the Be the Change event, there are other ways that you can help the environment, including:
Using environmentally friendly laundry products. It's important to use nontoxic products that reduce waste and environmental impact, especially when it comes to taking care of your clothes. Products such as our laundry detergent sheets are environmentally friendly and will extend the life of your clothes.
Using waste-reducing products. Most laundry detergents and other cleaning products produce a lot of water waste. Our laundry detergent requires less water per cycle to clean your clothes, which reduces your water waste.
Supporting sustainable businesses. ÖKO Essentials is a sustainable business that keeps the environment in mind with every product. From our actual products to our packaging, we do everything we can to eliminate our carbon footprint and help our customers do the same.
Practice Sustainability Today!
Now is your chance to practice being a more sustainable consumer! Visit the pop-up #Be the Change event at the Design Orchard on July 29th to donate your clothes or learn more about sustainability. Or, visit our website to shop for your own sustainable laundry products!